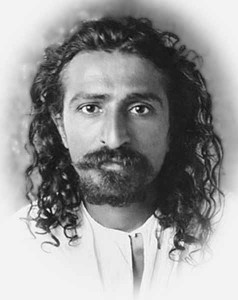 "My Christmas blessings to you to hold fast to my daaman."
(Lord Meher, p5518)
————-
When Norina encountered Baba in Harmon, tears of ecstasy rolled down her cheeks and she totally forgot herself. Her life became Baba's and she dedicated herself completely at his feet. Later, she described that meeting:
I doubt whether that experience of meeting Meher Baba can be expressed in words. I had heard about him, but I remained skeptical. I had followed teacher after teacher, and yet none of them could ever reassure me about the path. Eventually, I consented to go with a friend to Harmon.
I entered the room in which Meher Baba was sitting surrounded by followers and disciples. That very moment, an experience began – full of wonder and beauty. Suddenly I had to run across the room and I found myself weeping on the floor at his feet. Weeping! Oh, how I was weeping! But I also began to laugh, and the streams running down my cheeks and the outbursts of laughter became one. While I was resting my head on Baba's hand, my whole body was shaking with terrific sobs of liberation.
After some time, I quieted down. Baba then took my face between his hands and looked at me for a long time into one of my eyes, and then into the other, and then back into the first eye.
Then he spoke to me via the alphabet board. His first words were: "I am man and woman and child. I am sexless." He then paused for a while, brought his face nearer to mine and spelled out, "Have no fear."
An incredible joy surged through me. I went into the next room and lay down on a sofa, weeping with joy. Suddenly the door opened and Baba came in. I knew now that my whole life had no meaning if it were not dedicated to the Perfect Master, and so I said to him, "Baba, please take me with you." He motioned, "It is yet too soon." I could have died with grief when he I felt his words.
As a child, Norina had had an experience of God. On one occasion, she recollected:
Since childhood, I knew of God. When I was twelve, he came as Jesus Christ and spoke to me. He explained to me in words of sublime wisdom that this love which had begun to surge within me was an imperative for the fulfillment of the highest form of spiritual love.
He spoke to me in the unforgettable words: "I am your first and last love."
The significance of these words was fully realized by Norina when she met Meher Baba for the first time and recognized him as Christ personified. Without her ever mentioning this incident, Baba spelled out, "I was the one who came to you in the form of Christ to lead you toward the Goal." From their very first meeting, the Master established unconditional faith in him.
–Lord Meher (First Ed), p1473