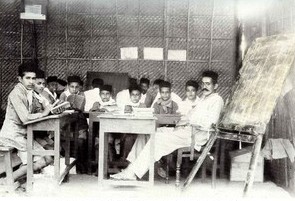 A class in progress taught by Raosaheb

From then on, every morning Edke (newly appointed teacher)  would walk from his home to Meherabad. The first day he met Baba coming down the hill around seven o'clock, with Kaka Shahane holding an umbrella over Baba's head. When Baba saw him, he instructed, "Never lay a hand on any of the students. Don't scold them either. Just teach them from the bottom of your heart and don't worry if they do not listen to you." Edke began teaching English and Marathi in the school, but he soon found out that the boys would only write Baba's name over and over again in their notebooks and on their chalk slates. Not one student seemed to be paying any attention to the lessons, which seemed rather peculiar to the new teacher.
In the evening of November 26th, Baba gave the following discourse to the mandali:
Childhood is the ideal period of life in which to take an interest in spirituality. The impressions received at a young age become deeply ingrained. Divine beauty, grandeur and bliss should always be impressed upon children, so much so as to fire their imaginations to the highest pitch about God and His greatness.
The boys' enthusiasm for God, however wild, should never be curbed. On the contrary, the best attempts should always be made to create in the boys a deep-rooted longing for divine upliftment. Never mind if all the boys go mad with uncontrollable enthusiasm and impulses about spiritual matters. The aim of this institution is more to create divine mad ones than academic degrees. And I prefer the former to the latter.
Of course, all the boys could not be expected to become saints like Dhruva and Prahlad,  but certainly some of them will take to the spiritual life in the later period of their lives; the rest will also follow after some lifetimes, if not earlier. The result of the present training will fructify in the end in all cases. Even temporary impulses and sparks of enthusiasm about God-Realization hold some result. It is like a cash balance in one's account in the bank, which is utilized beneficially at sometime or other in connection with one's spiritual advancement.

— www.lordmeher.org, p982