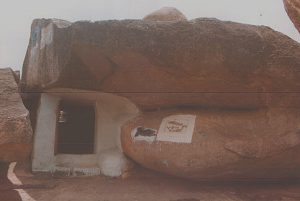 Manonash Cave, Hyderabad
Jai Meher Baba!
🌸 66th MANONASH Commemoration Sahavas 🌸 – to remind us of Beloved Baba's Manonash work at Hyderabad – is planned for the 22-Oct-2017, Sunday 8AM-1PM.
For out-station Baba Lovers, accommodation at AMBHC-Jubilee Hills center is being arranged for the 21st-Oct (Saturday).
Transportation to the sahavas venue will be provided on the 22nd-Oct morning. After the Sahavas, transportation to Railway station and Central Bus Depot will be arranged from the Manonash Cave. The following numbers to be contacted for requested for accommodation & transportation –
7729934877
9010272007
Volunteers will be needed to cover efforts across multiple departments including – preparing venue for the sahavas, transport, food arrangements, exhibition to grace the occasion, preparing for the cultural events etc.
All interested in part-taking in the sahavas preparations are requested to join the monthly sahavas at Manonash cave on 14-October-2017 (Sat, 8.30-10AM) without fail and stay tuned for the subsequent announcements.
—-
Buses for Manonash Sahavas on 22nd October 2017
From Chaitanyapuri, 7AM:
( Naidu Brothers)
Sangam Naidu 9848517875
Papinaidu 9440392013;
—
From Koti 7.00 AM:
TV Subba Rao 9948423243;
—
From Malkajgiri: 7AM:
Jagannadha Rao, +919490950014
Ramanjaneyulu 9493724115.
—
From Cine Planet Kompalli 7.00AM:
Dr.Chandramala 9949045494,
Uma Singh 9573296250,
—
From IDPL X Roads – 7.00 AM :
Shiv Kumar (Haribabu's Brother) 9030413252
—
Baba lovers coming from NIZAMABAD
For Bus transport, please contact:
Dr. Chandramala 9949045494.
🙏🏻Avatar Meher Baba Ki Jai!🙏🏻
For more details of Baba's Manonash work done at Hyderabad:  http://avatarmeher.org/manonash_index/