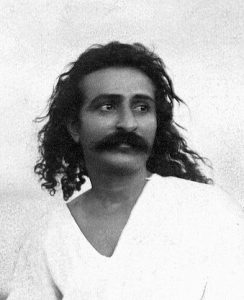 ALL WERE INSTRUCTED TO CLOSE THEIR EYES FOR A SHORT TIME; AFTER THREE OR FOUR MINUTES HAD PASSED, THEY WERE ORDERED TO OPEN THEIR EYES AGAIN. ASKED WHAT THEY HAD EXPERIENCED, SOME SAID THAT THEY HAD AT FIRST SEEN ONLY DARKNESS, BUT THEN OUT OF THAT DARKNESS SMALL CIRCLES OF LIGHT APPEARED: AND IN THE END, ONLY ONE CIRCLE REMAINED. THEREUPON SHRI [BABA] EXPLAINED:
All of you closed your eyes. Now, when your eyes were closed, who was it that actually saw these circles of light and the rest of it, as you have just related? It was your mind that saw all of this through your subtle eye, even though your gross eye was closed, that is, even though you were looking into darkness. Now, this seeing of circles constitutes a step on the path towards seeing the Almighty, who is the Eternal Light.  At first you see circles, then colors, then "skies,"* until at last you see the very Fountain of Light, Truth Itself—the winning of which is the aim, object, and intention of everyone. If you could see all these things—the circles, colors, skies, and so forth—with your eyes open, then you could be said to have developed the powers of your subtle eye. Many of you and many others in the world must have closed your eyes from time to time with an intention of seeing something, but has this explanation, as I have just given it, ever occurred to you or anyone else? None the "Really Experienced Ones" has ever explained this to you in such clear terms, although to us, who have not only seen but actually become one with the Eternal Light, this business of seeing circles and colors and so forth is only too trivial. This light that you see with your subtle eye is the sixth shadow of that real and original Light which pervades the whole universe. The subtle eye itself takes the shape of a circle of light with a spot in its center.
*During this period Baba seems to have used the English words "skies" and "heavens" as equivalents of asmans.
– "Meher Baba's Tiffin lectures", p295
23-November-1926; Meherabad