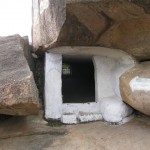 Beloved Baba has started the significant work of Manonash (Annihilation of mind) in the cave during the New Life phase. He stayed in the cave from 16 Oct 1951 to 24th Oct 1951 for the Manonash seclusion work.
Sri. Shridhar Kelkar, Chairman of the AMBPPC Trust,  Beloved Baba's nephews Rustomji & Sohrabji are participating in this Sahavas. Top representatives of State Government are also expected to participate.
You are all cordially invited to join the celebrations with family and friends.
Date: 16 Oct 2016
Time: 09:00 AM – 13:00 AM
Venue: Manonash Cave, Pupplaguda, Khajaguda, Near Lanco Hills, Hyderabad
Map url: https://goo.gl/maps/3c3ZwSGyEeo