Baba's visits and work in Hyderabad
Beloved Baba has close association with the twin cities of Hyderabad and Secunderabad. He visited the city several times between 1938 and 1956. The total duration of stay of all the visits sums upto nearly 360 days, almost an year!
In Baba's own words: "I like Hyderabad best. It is a very great place both spiritually and materially. Its spiritual importance stems from ages past." (Lord Meher 2005, Vol 5, p2640 ). Another time Baba said: "I like Hyderabad for its spiritual atmosphere; specially for its Hindu-Muslim unity in matters spiritual." (Glimpses of The God-Man, Vol2, p350).
The two aspects of Beloved Baba's work in Hyderabad that stand-out: The God-Determined Step of Manonash (Annihilation of mind) and the Mast work.
Mast Work
One characteristic feature of all the visits is the contact with Masts. Masts are God-intoxicated souls. Mast work or contact with masts assumed a very significant portion of Baba's work in this Avataric advent. Indeed, in no other city in India did he work with so many masts as he did in Hyderabad – almost 70 in all! (Lord Meher 2005, Vol 4, P 2167).
Refer to the page on Masts for details of Mast contacts in Hyderabad, which is extracted from the masterpiece 'The Wayfarers', a compilation by Dr William Donkin of mast contacts of Beloved Baba done all over India.
Apart from Mast contacts, one another event that stands out in these visits is Manonash (Annihilation of mind) work started during New Life period at Hyderabad. He called for a meeting called The Hyderabad Meeting which was attended by 70 of His lovers from all over India to bear witness to the declaration that He is going to make before God on the God-determined Step (Manonash or Annihilation of Mind). One can gauge the intensity and importance of the Manonash work from what Baba said:
The God-determined Step (Manonsh) will be executed from 16 Oct 1951 to 15 Feb 1952
It is like deciding to climb Mt Everest when his physical condition is such that he can move very little
"I have to attain the zenith of strength at a time when I am at the zenith of weakness, in an impossibly short period – impossible in the sense that what could be achieved in four crores (40 millions) of lives is to be achieved in four months!"
As part of the Manonash work, He stayed in a small cave or enclosure upon a Hill near Khojaguda, Hyderabad from 15 Oct to 24 Oct 1951 and set out to go on foot to Meherazad via Aurangabad and Khuldabad.
For details of Baba' stay in the New Life period and about Manonash work at Hyderabad refer to the Manonash page, which is extracted from the Glimpses of the God-Man, compiled by Bal Natu.
For more details of Baba's visits to Hyderabad, refer to this PDF document.
Summary of Baba's visits to Hyderabad
The following table shows the number of visits and the durations.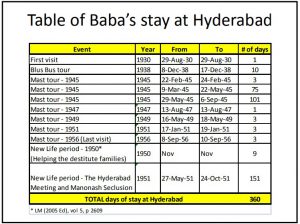 GPS coordinates of places
The following table shows the GPS coordinates of the places in Hyderabad and Secunderabad connected with Beloved Baba's work in Hyderabad.
| | | |
| --- | --- | --- |
| Place | Latitude | Longitude |
| 1951 Manonash cave, Khojaguda, Hyderabad | 17°24'34.72″N | 78°21'50.41″E |
| 1951 Manonash cave – Baba Fakruddin's darga | 17°24'37.23″N | 78°21'58.01″E |
| 1951 Manonash cave- Vishnu temple | 17°24'35.16″N | 78°21'47.23″E |
| 1951 Nawab's bungalow, Banjara Hills | 17°25'3.20″N | 78°26'52.49″E |
| 1945 Laywer's bungalow, Banjara, Hills, Hyderabad | 17°25'19.20″N | 78°26'35.70″E |
| 1945 Hotel Castle Rock, Banjara Hills | 17°25'16.53″N | 78°26'32.37″E |
| 1951 Dreamland theater, Secunderabad | 17°26'58.00″N | 78°29'36.82″E |
| 1951 Old Tivoli theater, Secunderabad | 17°26'53.65″N | 78°29'35.66″E |
| AMB Hyderabad Center, Jubilee Hills | 17°26'40.58″N | 78°24'7.23″E |
| AMB Secunderabad center (old), Mudfort | 17°27'9.84″N | 78°29'29.15″E |
| AMB Koti Center, Hyderabad | 17°22'55.70″N | 78°29'17.84″E |