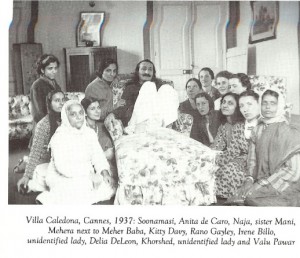 The electricity in Baba's bungalow suddenly went out one night, and Baba directed Rano to telephone the authorities concerned. Rano was, of course, a total stranger to Lahore and wondered whom to contact and where to find a phone. She moved about here and there in the dark, and at last went to a neighboring bungalow and knocked on the door. She asked the owner if he had a telephone she could use, and was shown in. Rano phoned the power company and then returned to Baba's house.
Seeing her, Baba frowned, "Why did you take so long?"
"I did not know where a telephone was."
"Why didn't you acquaint yourself with such information beforehand?"
"How was I to know the power would be cut off?"
"It is a common enough occurrence here. If you don't know that, what do you know? You should be more careful about such things. I often go out for mast work, and if you are not alert in my absence, what will become of the women? They lead a secluded life, and you should be mindful of outside things such as this."
Rano had learned by now that the best thing to do at such times was to keep quiet. By this incident Baba showed her that he wished her to develop foresight.
-www.lordmeher.org, p2364
May, 1943; Lahore
——-
"Do not ask me to bless you with a good job, but desire to serve me more diligently and honestly and without expectation of reward."
(www.lordmeher.org, p3396)
Photo courtesy: http://www.meherbabatravels.com/