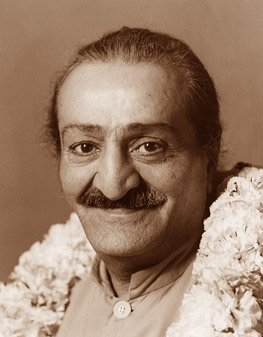 "Age after age, when the wick of Righteousness burns low, the Avatar comes yet once again to rekindle the torch of Love and Truth. Age after age, amidst the clamor of disruptions, wars, fear and chaos, rings the Avatar's call:
Although, because of the veil of illusion, this Call of the Ancient One may appear as a voice in the wilderness, its echo and re-echo nevertheless pervades through time and space to rouse at first a few, and eventually millions, from their deep slumber of ignorance. And in the midst of illusion, as the Voice behind all voices, it awakens humanity to bear witness to the Manifestation of God amidst mankind.
The time is come. I repeat the Call, and bid all come unto me.
This time-honored Call of mine thrills the hearts of those who have patiently endured all in their love for God, loving God only for love of God. There are those who fear and shudder at its reverberations and would flee or resist. And there are yet others who, baffled, fail to understand why the Highest of the High, who is all-sufficient, need necessarily give this Call to humanity.
Irrespective of doubts and convictions, and for the Infinite Love I bear for one and all, I continue to come as the Avatar, to be judged time and again by humanity in its ignorance, in order to help man distinguish the Real from the false.
Invariably muffled in the cloak of the infinitely true humility of the Ancient One, the Divine Call is at first little heeded, until, in its infinite strength, it spreads in volume to reverberate and keep on reverberating in countless hearts as the Voice of Reality."
-"Glimpses of the God-Man Meher Baba", Bal Natu, Vol 4, p98