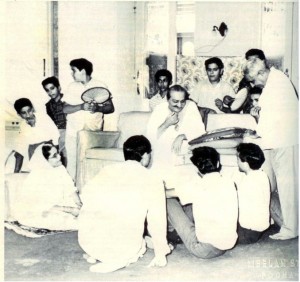 Irwin sitting next to Adi at Guruprasad
Irwin arrived in Bombay in the early hours of 1 June 1960 and was driven to Poona later the same day by Homa Dadachanji. Don had been summoned from Meherabad to stay in Poona to help look after and guide Irwin. Irwin was accommodated at Napier Hotel, where Don was staying, and told to get a good night's sleep and that he would be taken to see Baba the next morning at 7:30 A.M.
The following morning, 2 June, Irwin was brought to Guruprasad by Meherjee. As the car drove up, Irwin saw Baba standing in the doorway of one of the rooms, motioning him to come to him. Someone in the car said, "Baba is calling you." He got out and went inside. Meherjee had suggested he purchase a huge garland for Baba. Irwin had thought: "Why get a garland — Iwill be Baba's garland!" He bought it anyway and now put it around Baba. Baba immediately took it off, enfolded Irwin in a tight hug, kissed him on both cheeks, and then made him sit near him. Here is an account of Irwin Luck's first meeting:
Ordinarily I am not the nervous kind, but as I went up to the door to see Baba, I started to get a little shaky. I peeked in and he spotted me, called me in and embraced me. He was very affectionate. The way he received me left an impression I will never forget. He reminded me of someone with a puppy dog. He made me feel very good. I felt like a long lost son that had one day come home.
Baba was very warm, very loving. One felt very comfortable with him. He was someone very dear, that loved you very much and who really had your own best interests at heart. No self-interest existed in him. When he told people things it was for their own best good. He had such amazing mastery and control of everything. You felt very secure with him. No worries.
When I first came I was very nervous. But Baba had his ways of making a person calm once more. So how did he do it with me? He appeared more nervous than me! He was looking at me as if he was very nervous! When I came in his legs were shaking as if he was nervous. I thought to myself: "I'mthe one that's supposed to feel nervous, not him! What's he got to be nervous about?" And after a while I began to calm down, and he began to calm down, and everything was okay once more.
Baba asked, "How did you manage to come?"
Irwin said, "Baba, I was able to come because it was your will."
Baba motioned that Irwin should stand, and gestured, "Repeat that to everyone here."
Irwin said, "I am here because it is Baba's will."
Someone at the back raised his hand and asked, "But how did you earn the money to come?"
Irwin thought: "That man has missed the point." As if to confirm this, Baba made a sweeping gesture, indicating, "That is unimportant. The way he said how he came is important."
…Irwin told Baba of how disappointed his brother Edward was not to have been allowed to come. Baba assured him, "Edward has done something noble. I am pleased with him. It would have been better if you had come together as you had written, because you would have benefited more. But Edward should not worry. Edward will benefit the same as yourself. It is just as if he were right here, as far as any spiritual benefit he could derive is concerned."
Baba instructed that a telegram to this effect be sent to Edward. Francis was to assist Irwin in composing it, as Irwin found it difficult to concentrate on anything but Baba.
When Irwin returned home, Edward informed him that when he received the telegram, it confirmed an amazing experience that was happening to him. When Irwin had gone to Baba in India, Edward had begun to feel Baba's presence so strongly and so much love from Baba, that when he would walk in the street or on the beach, people would often turn around and look at him. They, too, apparently felt something wonderful as he passed, and looked at Edward, trying to identify its source.
-www.lordmeher.org, p4693
June, 1960; Guruprasad