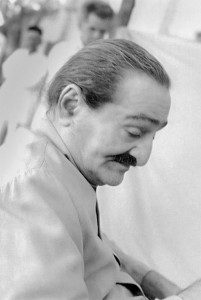 Proceeding, Baba entered a lane inhabited by poor hut dwellers. It was 6:45 P.M. and growing dark. Approaching one hut with a cot outside, Baba sat down on the ground. It belonged to a mason, and a single kerosene light burned inside. Taken aback, the mason, named Bantumalli Lakshmadu, came out and sat near Baba. Baba was absolutely quiet, his fingers moving rapidly. After remaining there for five minutes absorbed in his work, he walked back to Naidu's.
The mandali found out later that the old man belonged to the lowest caste of the Untouchables (Harijans). Since the caste system was strictly enforced in Andhra at the time, the old man had not gone to the public darshan program, because there were higher caste people in attendance. Before Baba had arrived at his hut, he had been thinking sadly: "How unfortunate I am. God has come, and he is giving darshan. Most of the people are there, but I cannot even have a glimpse of him. Oh God, if I could but see him!"
God not only heard this poor Untouchable's prayer, but answered it. God came to his very own house. It was a very touching scene. The man was so elated that when Baba requested him to sit by him, he could not utter a single word. He was dumbfounded. There were no words to express his gratitude for his good fortune in having Baba's visit. So, in this way, the one who thought himself the most unfortunate received the most.
Lord Meher First Ed, p 4303