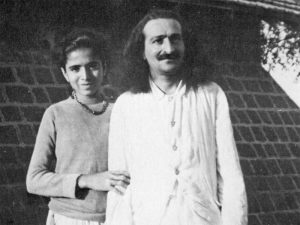 Today is Birth centenary of our Beloved Baba's dear sister Mani.
Mani was born on 15 December 1918 as the the sixth and last child of Sheriarji and Shireenmai . Meher Baba was 24 years old when Mani was born.
As Mani wrote in God-Brother, the last thing Merwan did before leaving their house [in Poona] was to rock Mani's cradle, kiss her, and tell their parents, "She's so very fortunate."
Mani attended Catholic school and longed to accompany her brother and live in His ashram as His disciple even as a young girl. She wrote persistently to him, pleading to be allowed to come. As a result of such efforts Mani joined her brother as a full resident disciple in September 1932 at the age of only 13.
Baba once said:
My sister Mani loves me very much.
She doesn't worry about anything. She simply obeys me.
From morning till night, she is working for Baba.
She knows Baba is God, and loves Baba as God.
– Meher Baba
MEHERA-MEHER, Vol 3 p 151
HAPPY BIRTHDAY DEAR SISTER MANI!