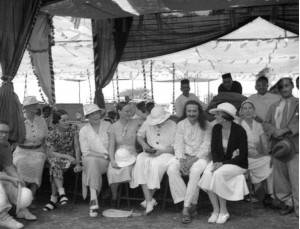 Westerners with Baba, 1937
On Thursday, 1 April 1937, Baba gave a very interesting discourse to the Westerners, explaining that they should always think of him in everything they did:
I may want anything from you. I may instruct some of you to nurse and wash the lepers and look after them. I may order some to meditate on me, or wander about like sadhus, or dance and sing with joy, or become like skeletons, or grow big and fat. But whatever it may be, all should work for me. This new work will start in April.

Meditation means all the time — always thinking of Baba, letting nothing distract you.

It is your doing it for me that counts; otherwise, we have millions of hospitals and billions of nurses to call upon. But I want you to work for me, beg for me, write for me, mediate on me. When you think of these lepers as Baba, you will wash them with love. Baba is all in all, so wash them with the same love as you wash my hair. Then only do you express the St. Francis state.
Turning to Margaret Craske, Baba continued:
If you dance for me, you do as much good as one who meditates on me. Some like work, some like play. But when you do it for me, then it is the same. This is Vedanta and Christian philosophy in a nutshell; so very easy and yet so very difficult!
-www.lordmeher.org, p1813
Mar, 1937; Nasik