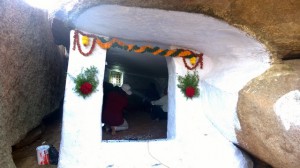 Baba started Manonash work in this cave at, Khojaguda, Hyderabad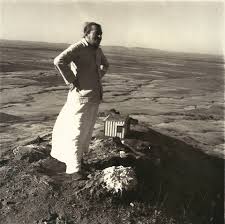 Manonash work ended at Tembi Hill, Meherazad
My efforts for Manonash have been positive, and the result of Manonash will be positive. But the actual and concrete manifestation of this result I leave entirely to the Divine Sanction. Where, how and when the result will be, I leave entirely to the Divine Decree. It may be at any moment, hour, month, year or age. It may be in any part of the world — either in the East or in the West, in the North or in the South — yet in effect it will embrace all four. It may be under any and all circumstances.
I feel that it will be a sudden coming, and a becoming, of the essence of all Love, Unity, Realization, Revelation and Illumination in its varying degrees, for me and for all those connected with me.
During my work of Manonash, the four companions who were with me, and also others who were near or away from me, have helped me to their utmost limit. All during my Manonash period, I have been absolutely helpless and full of weaknesses in my ordinary human state. It can truly be said that God in His manifestation, and that the saints, and the prayers of all those who love me, have accomplished for me the internal work of Manonash, while the four companions have seen to its external aspect.
I intend to go in the beginning of April of this year to the West for some months.
I expect to lead a "Complicated Free Life" from March 21; a "Full Free Life" from July 10; and a "Fiery Free Life" from November 15.
…I might give mass darshan when I feel it necessary, or have the inclination to do so. Any reference to my Old Life state, which I have now regained, may be expressed verbally in my presence by anyone who wishes to do so. But I will not, in accordance with my New Life standards, accept any external homage, such as bowing or touching of the feet.
Although the Manonash work is done fully and completely, and the result must and will definitely come 100 percent to my satisfaction, I now give freedom to each and all who are connected with me, to choose what manner of life they henceforth wish to live. They are free either to live with me and obey my orders, or to live away from me and obey my orders. They are free either to lead the life I tell them to lead, or to lead their own lives in any way they please — that is, completely free from orders of any kind from me. This includes the Arrangementwalas but, in their case, the only kind of freedom I cannot give them is freedom from the responsibility that they have shouldered to the end.
No matter what choice he or she makes — everyone will share when the Real Freedom comes, at any moment, by the grace of God.
To sum up my Manonash work:
1) I feel in all truth that the four months' Manonash work has been done by me, by the help of God, to my entire satisfaction.
2) The result of this work must bear fruit, sooner or later: either in the immediate present, or sometime later, or in the distant future.
3) The result will bring Freedom to us all in proportion to our merits of love, faith and service.
4) This Freedom will be freedom from ignorance, and will be the Knowledge that we always were, are and will be one with God.
5) This Knowledge will make us realize and experience infinite love, power, bliss and peace, which we always possessed and knew not.
Baba's message was printed and sent out in the form of a circular which was called Life Circular No. 1. Thus, from 6 February 1952, Meher Baba's LIFE began! 
-www.lordmeher.org, p3028
Feb, 1952; Meherazad