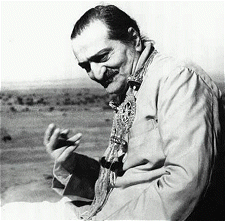 A third public darshan in Amraoti was held at Vidarbha Universitythat day, where the principal, professors and others accorded Baba a splendid reception. Baba toured the campus and met everyone. The principal, Mr. Nerulla, was a devotee of Sadguru Ramakrishna of Calcutta, whom he naïvely considered as the Avatar. Baba took him aside, remarking, "Do you think it is all meaningless and senseless when I declare with authority that I am the Avatar? Ramakrishna was a rare type of Sadguru. He was the Heralder of the Avataric Age. So go on loving him and one day you will find me in him."
"How many more births will I have to take before God-Realization?" Nerulla asked Baba.
"I am very pleased with your question, which reveals well the patience of your heart. Many come to me and demand immediate Realization. Now that you have asked me, I tell you: you will see me in the form of Ramakrishna at the time of death.
–Lord Meher (First Ed), p4018
(www.lordmeher.org, Revised 2014, p3229)