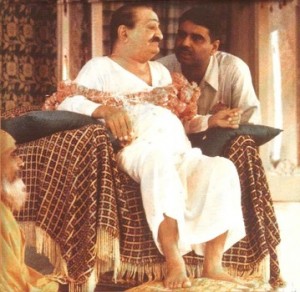 Do your duty, but don't feel worried about it. Remain one hundred percent happy, one hundred percent honest. Do the best you can; then at night, relax and forget about everything. Keep happy. That is your duty. And remain honest; do not compromise. When you do, you get a fear complex in the heart.
I am telling the whole world not to worry. The time is fast approaching when I will give the Word. The whole world will know about it, and there will be many changes. You have no idea how insignificant your worries will become then. So why not stop worrying today? Try to live until I give the Word. You may worry yourself to death unnecessarily, and then when I give the Word, you won't be there!
—www.lordmeher.org, p6015
Some of the younger Sufis were concerned about their careers. "The whole world is bound by worry," Baba informed them. "I am full of worries – you have no idea what real worries are! But with me, there is infinite bliss and that sustains me. Otherwise, it is a burden."
Lud Dimpfl described how he worried briefly about some money left in a pair of trousers sent to the cleaners. Baba sent for his wife, Bea, who said she had not worried about the lost money at all. Baba remarked to Lud, "Why not lose your self so that you can come to me? Forget your worries, and find me within you. When I give out the Word, let it touch your heart. It will give you such happiness that the loss of even millions of dollars will not matter! No amount of money can give you that Experience. The time must come when I must give my Word. Meanwhile, I want your love; I want you to love me as you should!"
—www.lordmeher.org, p6016
FROM CHIRALA in the Guntur district of Andhra, about fifty men, women and children came for Baba's darshan. After arranging fodder for their animals, the villagers locked their houses and traveled to Poona. As they were poor, they could only afford to stay for two days, but during both days they had no chance of meeting Baba. Deeply disappointed, they went to the train station that night to return home. At that moment in Guruprasad, Baba remembered them and instructed that they be sought out and given this message: "Those from Chirala can see Baba tomorrow morning at eight o'clock." Bal Natu found them at the station and delivered the message. The villagers' joy knew no bounds. They postponed their departure, uttering, "Thank you, Baba! You knew our hearts!"
The Chirala villagers arrived in Guruprasad at 7:30 A.M., on Saturday, November 3rd. Baba embraced each person. He also allowed them to sing bhajans and perform his arti. Their singing may have been off-key, but their faith was full of love. To the children among them, Baba gave extra prasad. Several of the Westerners arrived an hour later and, watching the scene, they were impressed by these poor villagers' deep expression of love. After each embraced Baba again, the villagers departed for their homes.
www.lordmeher.org, p6014