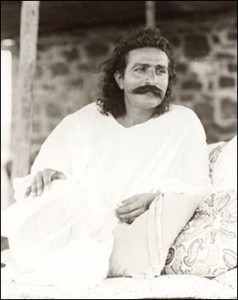 Baba  at Meherabad during 1920s
(Continued from previous post)
Buasaheb tried to comfort me by reminding me what Baba had promised to do for me. But the spontaneous weeping became louder and louder as my muscles were shivering, making my breathing deep and fast. I would quiet down for awhile, only to start crying again.
After about an hour, I began to calm down. I felt I was in state of limbo between sleep and wakefulness; a feeling of bliss overtook me. I raised my head and found my Beloved Baba sitting in front of me. His presence and the sight of his pure face once again moved me to tears, and unthinkingly I fell at his holy feet. He was concerned as he gazed at me. I was dazed – lost in a sea of oblivion. After a few minutes, I regained consciousness and sat in front of Baba, motionless as a statue, gazing with bewilderment at his unrivaled beauty. My eyes were wet with tears and my heart was burning in flames. In my heart I was singing these lines about true love for God:
O Beloved, I have lost myself,
yet I desire to lose myself even more.
I speak to your eyes, telling them,
"I want to be as drunk as you are."
I don't want a crown; I don't seek a throne;
I only want to be thrown as dust in Your service.
Who has ever had such a lovely idol as I have?
Who has ever had a moon sweet as honey?
The sight of Your countenance makes the earth shake
As it will at the day of judgment.
Yet in the paradise of Your beauty,
Who would ever fear the fire of hell?
My heart then pleaded to Baba as God:
O life of my soul, without You
Neither does joy make me happy
nor does rapture intoxicate me.
You are my life; without You I know not how to live.
You are my eyes; without You I have no sight.
-www.lordmeher.org, p1042
(Photo courtesy: Lord Meher)
(To be continued)