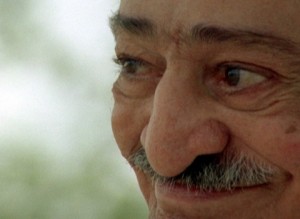 The doctor (Dr Grant) left, and the shocks again attacked Baba's body. Eruch, Pendu, Francis and Bhau were in Baba's room and they held firmly onto his arms and legs. Goher was beside herself, totally at a loss as to what treatment to administer. Baba remarked, "This is my crucifixion! Christ was crucified once, but I am being crucified every moment!"
He repeated this several times, and when Donkin came to his room to check on him, he repeated it again solely for him, "This is my crucifixion! Christ was crucified once, but I am being crucified every moment!"
He also conveyed to Donkin, "All this, all that I have been through all along, has been a preparation for the Word – for just the One Word!"
And with a quizzical smile, he added, "Just imagine!"
Every movement of Baba's fingers would precipitate a spasmodic jolt, making it difficult to read his gestures. The jolts subsided after an hour.
A picture of Jesus walking on the sea and the apostle Peter beholding him hung in a corner of Baba's room. The caption read: "Lord, save me, or I shall perish!"
Baba sent for a picture of Jesus at the Last Supper with the 12 apostles. Pointing to the apostle John (leaning against Jesus' chest), Baba gestured to Eruch, "Bhau is my John …"
On the afternoon of January 30, Baba did his Universal work as usual. Bhau was with him in his room, and had to beat Baba's chest with his fists as he had been instructed. After this final day of working, tears flowed down Baba's cheeks. Baba looked up at Bhau and then drew Bhau to himself and embraced him. Baba looked completely exhausted and in anguish. His body had been broken into pieces, crushed after being ground in the mill of the forces of creation's universal suffering.
At one point, Baba began moving his fingers to give Bhau a line for a ghazal, but he was overtaken by a terrible spasm. Bhau pleaded with him, "Baba, please do not dictate anything now. You are in too much pain. Give me when you are feeling better." And Baba stopped.
After a short while, Baba sent for Eruch and gestured, "My condition is serious."
Eruch said, "We feel that also, Baba, but we are helpless against your will."
Eruch had sent a message Padri and Chhagan to stay in Meherazad for seven days to help with the nightwatch, and Padri arrived that evening on his motorcycle. After Padri had left Meherabad, Mohammed Mast asked Sidhu where Padri had gone. Sidhu told him that he had been called to Meherazad to assist the mandali, as Baba was not well. Hearing this, Mohammed Mast, who would mostly mutter unintelligibly, clearly said, "Padri will come back tomorrow."
Sidhu said, "No, Baba has called him for seven days."
Mohammed Mast then said, "Tomorrow, Dada [Baba] is coming here …"
—Extracted from www.lordmeher.org, p6696-6714
Photo source – The film "Beyond Words" directed by Louis van Gasteren, filmed in 1967