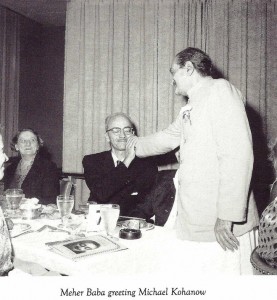 In the Lagoon Cabin at 5:05 P.M., Baba met Michael and Ann Kohanow, a couple in their late thirties, and explained the three types of conviction to them. He ended by stating, "The safest way to the Goal is to submit through love to One who has attained this end. Then all you have to do is to be guided by him to the Goal.
This feeling of certainty is then not necessary.
"What you have to do from today, after having seen me and contacted me, is have a burning longing to see God, to become one with God with this thought: 'Baba, let me see God and then let me give light and happiness to others.' This thought should be constantly with you, wherever you are and whatever you do: 'Baba help me to know God, to see God and then give light and happiness to others.' You are the first ones to whom I have explained this. I saw many but such instructions are given first to you. Do it honestly, faithfully."
The couple agreed, and Baba continued, explaining to them about intuition: "When you feel something as intuition and have no doubt about it, then know it is real. Passing doubtful thoughts and temporary emotional feelings should not be given importance. But when you feel it touches your heart, follow it. When it is from the mind, it is not intuition. Intuition means that which comes from the heart. In the divine path, first there is intuition, then inspiration, then illumination, and finally Realization.
"If it touches your heart, follow it. And, God willing, from today you will know that if it is intuition it is right. My love will help you and guide you to understand what is right. Love Baba. God wants honest love. He is all honesty and wants honest love. So love Baba. God will help you in your quest for the Truth."
–www.lordmeher.org,p3071
May, 1952; Myrtle Beach