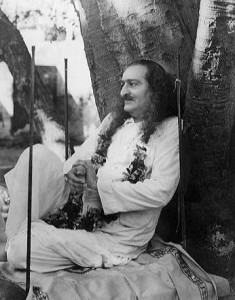 During this brief visit to Madras, Baba explained about Maya to Sampath Aiyangar:
It is like this: If a person wants to take the pearl from the bottom of the ocean, then he should not shout at the pearl to come up while he sits on the beach. If he really wants the pearl, he should try his hardest to plunge to the bottom of the ocean to get it.

Now, say that the water of the ocean is Maya and the pearl is God. According to spiritual law, it is then essential that the diver not get wet nor even touch one drop of water while diving! This means it is possible for him to dive and obtain the pearl, but it is impossible for him to not touch even a drop of water in the effort. This impossible aspect of spiritual things really makes the diver worthy of the prize.

In order to not touch water, the diver must put on a full diving suit; and after putting on an air tank, he can dive down. Only then will he be able to follow the rule of bringing up the pearl without getting wet.

To compare the above with spirituality, take the water of the ocean as Maya, the pearl as God, the diver as the seeker, the diving suit as love, or the willingness to renounce the world, and the man on the beach or boat in charge of the air compressor as the Sadguru. Without the help of the Sadguru to manipulate the air compressor, it is thus impossible for one to dive down and take the pearl, which means to free oneself from the clutches of Maya while remaining in Maya.

A man may discharge his worldly duties and maintain a household with a wife and child. But at the same time, he should remain detached from all this, come what may. This does not mean that he should be neglectful of his duties toward his near and dear ones, but that he should have no attachments to it at all. You know that a pen is yours and you use it. But if you lose it, you should not care about it; you should remain detached.

The meaning of God-Realization is emancipation – freedom from the bondage of Maya. But one has to be in Maya to come out of it. So remain in Maya but do not get enmeshed in it. Keep away from its tricks and snares.
–www.lordmeher.org, p1591
8 Feb 1934, Madras
——-
"I have to put up a big fight with Maya — not to destroy it, but to make you aware of its nothingness." (The Everything and Nothing, p67)