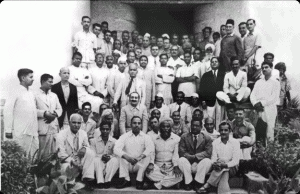 Group photo – Baba with participants of  'The Hyderabad Meeting' (June, 1951)
Manonash work is the culmination of New Life. Manonash (or Man-o-nash) means 'annihilation of mind'. The Manonash phase of work started at Khojaguda cave, Hyderabad. Baba stayed in Hyderabad from 27 May to 24 Oct 1951 during New Life. During this period He conducted The Hyderabad Meeting for the declaration of  "the God-determined Step" of Manonash. 
The meeting took place from 28-30 June 1951 at residence of Nawab Ali Nawaz Jung at Banjara Hills area of Hyderabad. Thirty none (39) Lovers from Hamirpur, Andhra, and other places attended it for three days. Some of the close companions stayed for 7 days. Baba said he called them as witnesses to the Declaration.
About the God-determined Step Baba said that it will be executed from 16 Oct 1951 to 15 Feb 1952. 
About the intensity of this Manonash work, Baba said:
"To take another example, suppose I am suffering from physical disabilities and afflictions of a type that allow me to move very little, and yet I have decided to climb Mount Everest.

To stretch the simile to its utmost length, I might just as well say that I have to attain the zenith of strength at a time when I am at the zenith of weakness, in an impossibly short period — impossible in the sense that what could be achieved in four crores [40 million] of lives is to be achieved in four months! Yet all this gives only an incomplete idea of what is really at stake for me now."
In the declarartion that was read by William Donkin in English, CD Deshmukh in Marathi and Abdul Ghani in Urdu, Baba said:
…"The step God wants me to take is one of complete and absolute annihilation. I am at this moment solely and entirely in the New Life, and it is purely from this New Life stand of an ordinary human being that I tell you about this annihilation."

… God wants me to take this step, and I am absolutely certain that He will help me gain this mental annihilation by February 12. With this inner conviction, I will plunge deeply into this act of annihilation from the 16th of October."
Out of 70 in the meeting, only 21 offered to go with Baba for Manonash work.  Baba finally selected the following: Gustadji, Baidul, Pendu, Eruch. Baba discoursed on Manonash at length.
Baba said that :
"Mind is never transformed. Ego is transformed once only. (By Ego is meant Astitva, meaning the Real I.) Mind cannot be transformed. Why? Because it is not One itself. Mind survives by desires and thoughts, and it is made up of impressions. Ego is One in itself, but this Real Ego — the Real I — is now bound by the mind. And this mind which is made up of false impressions makes the Real I think itself false. Mind makes you think of birth, death, happiness, misery, etc, as real things, but nothing can be more false than this."
The 4 months period was divided into 4 phases: – First 30-40 days was to be spent in Khojaguda cave – Second 30-40, foot journey from Hyderabad to Aurangabad – Third, contacting masts at Khuldabad – Fourth, the final stage at Meherazad.
Eruch, Baidul and Pendu found a hill called Khojaguda, 8 KMs from Hyderabad according to Baba's specifications. On one side of the cave, there was a tomb of Baba Fakruddin, a 14th-century Muslim saint and on another side a Hindu temple of Lord Vishnu.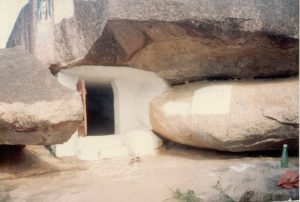 Models of five religious symbols (Buddhist temple, Hindu temple, Christian church, Mohammedan mosque, Zoroastrian fire urn) made of alabaster were made at Agra for the seclusion work.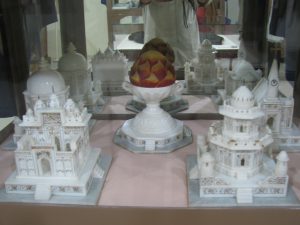 On 15th Oct, Baba arrived in a decorated car at 2:30 PM.
On 16th Oct, prayers were held simultaneously at different places – Baba and the group at the dargah of the Muslim saint, Meherjee at fire-temple, Udwada – Keki Desai at Moinuddin Chistie's tomb at Ajmer, WD Kain at Krishna's temple at Mathura, Gaya Prasad Khare at Buddha's temple at Sarnath,  Vishwanth Haldankar at Francis Xavier's cathedral in Goa.
 At Hyderabad, prayers were held by Nilu in a Buddhist temple, Vishnu in a Hindu temple, Kaikobad in a Parsi fire temple, Donkin in a catholic church,  A selected Muslim priest in a mosque.
On 23rd Oct, Baba ended the seclusion saying that "… my work in the cave has been 100 percent successful."
On 24th Oct, Baba set-off on foot to Meherazad via Aurangabad, thus ending the first phase of Manonash work at Hyderabad.
-Adapted from LordMeher.org, "Glimpses of the God-Man, http://avatarmeher.org/wp-content/uploads/2012/07/Beloved-Baba-and-Hyderabad-BW.pdf