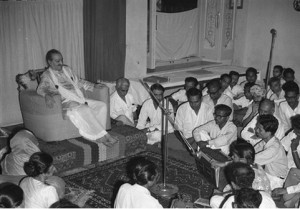 Pratap Ahir singing before Baba at Guruprasad
Madhusudan then sang a few ghazals… Baba gave more explanations of the ghazals*:
"The lover complains to the Beloved: 'I have given myself to you completely, and yet you are so cruel that you do not even care for me!'

"And then: 'Beloved, Your simplicity is your beauty. Your beauty is your simplicity.'

"The lover says: 'Do not leave me once you have embraced me, for now it is a question of life and death for me … It is impossible to be united with you; so I only pine to suffer the pangs of your love.' "
-www.lordmeher.org, p4971
Apr, 1963; Guruprasad
*[This ghazal is sung by Bro. Pratap Ahir at Hyderabad in 2006. It was recorded by John Gunn. It is available in the Multimedia page of  AvatarMeher.org web site.
Ghazal with Pratap Ahir's commentary is at – http://avatarmeher.org/multimedia/songs/20140101/9C%20Mujhe%20Aur%20Koi%20to%20gham%20nahee_With_Commentary.mp3
Ghazal without commentary –  http://avatarmeher.org/multimedia/songs/20140101/9C%20Mujhe%20Aur%20Koi%20to%20gham%20nahee.mp3
To find songs, simply enter text string in the search box. For example, to find all Pratap Ahir's songs, simply enter Pratap. Search acts like filter and is case-insensitive.]
——
"Repeat my name every second, every moment! If it becomes so natural in your subconscious, automatically it will come out during moments of difficulty to help and save you."
www.lordmeher.org, p4964