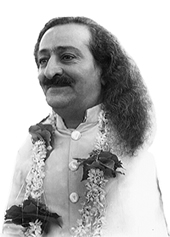 Baba then went back to Gadekar's house at eight o'clock (while at Sholapur), and met select workers of the Meher Spiritual Centre of Sholapur for one hour. Baba explained some spiritual truths to them, commenting:
When nothing upsets you, you are at the beginning of the path. When you desire nothing, you are half-way on the path; when nothing becomes everything, you are perfected.
Marwaris (businessmen) and atheists can realize God, but hypocrites cannot. In ordinary human beings, it is the body which controls the mind through attachments, requirements, cravings, and so forth.
In advanced souls on the fifth and sixth planes, it is the mind that controls the body. In majzoobs, there being no mind, it is God that controls their bodies. But in Sadgurus, their mind being universal mind, it is God which controls both the mind and the body. Their universal mind automatically becomes the expression of God's Will.
–Lord Meher (First Ed), p2860