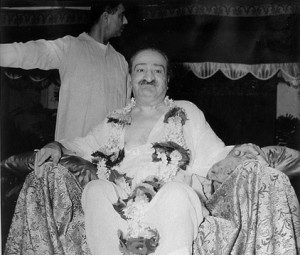 One lover from an out-station told Baba that he wanted to stay for one month at Poona and do Baba's "Seva" or service.
Baba told him, "What service will you do here? Spreading My message of love is My service.
If you stay here, on the contrary, I will have to do your seva, as I will have to look after your health, food, clothes. etc. Besides in Poona, there are more fellows who can talk about My message of love than there are listeners.
Real value of service is when there is an opposition to it. Your contact with Me brings many difficulties to you. Still, if you hold on to My daaman, it is creditable. When you have no food to eat, no money in your pockets and still you do my service, then it is real service. Your very life should be a standing example to others.
Love should not be external and there should be no show about it. External love means observing silence, fasts, etc. Some sick persons are not allowed food for a long time, but this does not mean they have love for God.
Carry on your worldly duties but think that Baba is behind everything."
With these words He asked the lover to return to his town and at parting  He said, "Take Me with you. Don't worry."
-The Awakener Magazine, 22:1, p66 (narrated by Dr Bharucha)