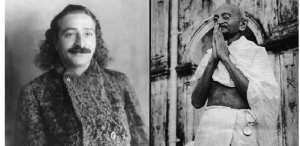 [Today 2 October 2019 is Gandhi's 150th birthday. Gandhi met Baba in London on 2 October 1931 on Gandhi's birthday. Below is part of their conversation:]
Gandhi later telephoned Chanji, saying, "I am eager to see Baba. Even if it is for only five minutes, I would be happy. Even if you have to carry him here on your shoulders — just bring him!"
On Friday, 2 October 1931, Baba decided it was time to meet Gandhi again. At 8:15 P.M., accompanied by Chanji and Rustom, Baba went to Kingsley Hall Community Center, at Bromley-By-Bow, in the working class East End of London.
Seeing Baba enter, Gandhi stood up and received him with great reverence.
[In course of conversation Baba said:]
"A woman artist came and said, 'How beautiful you are! I am a lover of beauty, but I have no faith in God. My life's ideal is this reality. There is no life after death.'
"I then explained to her about the existence of God and asked her, 'Do you love beauty?' She replied yes, and I asked, 'Then why don't you love God who is the Beauty of beauties?' But since she did not believe in God, how could she love Him?
"I then inquired if she could love me. She instantly replied, 'Who could not love you after seeing you?' "
Baba asked Gandhi, "Why is this the case?" Then Baba explained: "People weep at the sight of me and find themselves loving me even when they say they don't love God.
It is because I am completely free of desires and am full of only love from head to foot. This inspires all to love me [a great deal]. Forgetting their differences of caste, creed and color, they love me. You cannot do this because you have desires, whether they be large or small. Side by side, you have the ego which does not draw people to you.
"Desires kill love. I am the very image of love and only love — love from head to toe! I am nothing except love. Besides, from eternity I am full of bliss and enjoy it infinitely.
-www.lordmeher.org, p1286
2 October 1931, London