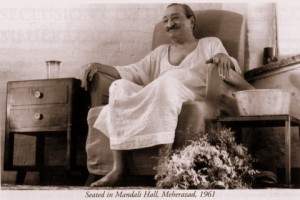 Waman Padale used to come to Meherazad every Sunday on Adi's scooter, and he would come other days as well if there were important messages to deliver from Adi's office. Waman was in the habit of bowing down to any Hindu idol he came across, and one day Baba sternly corrected him, "I am God in human form. Why do you bow down to statues of gods and goddesses? Don't do it again! Stop from today." Waman obeyed for a considerable time.
But once when he was with his relatives, one of them entered a temple and Waman went with him and bowed to the idol so that his relative would not feel insulted.
The next Sunday when he came to Meherazad, Baba asked him about it and he admitted the truth. Baba scolded, "You did so to please your relatives, but you had no thought of keeping my pleasure. In order to keep my will, you should not mind even if the whole world turns against you!" Baba ordered him to rub his nose on the floor seven times before him and thereby forgave him.
-www.lordmeher.org, p5184
Oct, 1965; Meherazad
——-
"I am in everyone. But if you catch hold of me, you will have the root of all creation in your hands. Then you will not need to go after the branches and leaves. If you are lucky enough to catch hold of the Emperor, you should never, never leave him."
(LM, p1085)