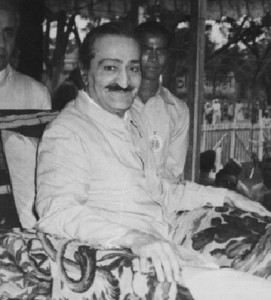 I am happy to be in your midst. It is the love of some of my lovers that has drawn you all together today to have my darshan. But to have my Real Darshan  is not easy. To see me at close quarters, to do obeisance to me, to offer me fruits and flowers, to bow down to me and then to return to your homes can never mean that you have had my darshan. Having seen me with your eyes, you have still not seen me as I am. You have not had even a glimpse of my true Being in spite of your having gone through the convention of so-called "darshan."
To have my Real Darshan is to find me. And the only and sure way to find your abode in me is to love me. To love me as I love you, you must become the recipient of my grace. Only my grace can bestow the gift of divine love. To receive my grace, you must obey me wholeheartedly with the firm foundation of unshakable faith in me. And you can only obey me spontaneously as I want, when you completely surrender yourselves to me so that my wish becomes your law, and my love sustains your being. Age after age, many aspire for such a surrender, but only very few really attempt to surrender themselves to me completely as I want. He who succeeds ultimately not only finds me, but becomes me and realizes the aim of life.
My being in your midst today would serve its purpose even if one from this multitude has understood what I want you all to know. I give my blessings to you all.
–Lord Meher (First Ed), p4233
(www.lordmeher.org, Revised 2014, p3410)