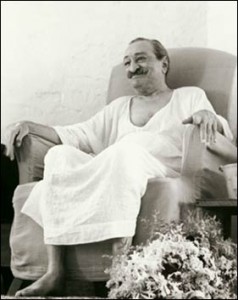 "Last night, Baba's health was very bad," Pendu said. "These days, he generally feels unwell at night, but yesterday was worse."
Baba's face still appeared dark.
Baba stated that he would dictate a prayer, but before this he asked Aloba to perform namaz (Muslim prayer). Eruch was directed to recite the Master's Prayer.
"Last night, when I was in a very painful state, this [new] prayer came to my mind." And humorously, he stated, "First, I memorized it, and now I will dictate it to you:
Beloved God, help us all to love you more and more, and more and more, and still yet more until we become worthy of Union with you. And help us all to hold fast to Baba's daaman until the very end!
Baba said that the prayer (which became known as the Beloved God Prayer) would be recited again three days later on the 28th.
–www.lordmeher.org, p4580
Aug, 1959; Meherazad