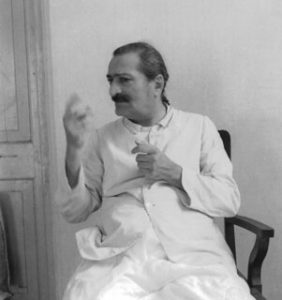 "Training" was to begin, as Baba had previously mentioned. "To make a success of the training period," Baba stated, "implicit obedience is absolutely essential without the least falter or hesitation."
Citing an instance about Daulat Singh (a Sikh), Baba added, "I had given him a cigarette to smoke in Meherabad. Without hesitation, he immediately put it in his mouth and was on the point of lighting it. But I snatched it and threw it away, pleased with his obedience.
"Had Daulat Singh shown the slightest hesitation on the grounds of religion, he would have failed; but I would have forgiven him in this primary stage of the New Life. But from January 1, no such lapses will be condoned. The defaulter will immediately be ordered to leave, and his spiritual connection with me will also be broken.
"That is why I say you should take all orders and conditions seriously. I will help you much during the period of training until the end of December to attune yourselves to the New Life."
In the afternoon, Baba brought up the topic again of obedience and explained:
We are all on an equal footing from now on. For us all, henceforth, there is no spirituality, no Master, no disciple, no miracles, no key-turning business, no hopes, no thoughts of benefits or of privations. Look upon me as a friend who will help and advise you until the end of December.
By words and deeds, you should sincerely and seriously avoid giving the impression that Baba is God, Master, Sadguru or the Avatar. I will be Master in one respect alone – in demanding implicit obedience. In all other respects treat me as a friend; you should be quite free in your behavior with me. But the treatment should not smack of rudeness or impudence. Barring this, indulge in fun, be merry, crack jokes, laugh – nothing will please me more.
"To make a success of the training period," Baba stated, "implicit obedience is absolutely essential without the least falter or hesitation."
-www.lordmeher.org, p2787
October, 1949; Between Ahmadnagar and Pune