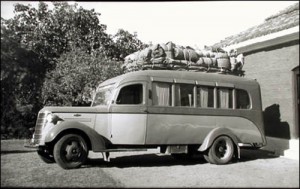 Original Blue Bus – used for tours between 1938 to 1941
For their return journey to Meherabad, Baba sent for Sarosh to come to Dharwar and drive the Blue Bus to Ahmednagar. The group left on Thursday, 27 November 1941 and spent the night in the dak bungalow at Satara. There, Baba spelled out to Sarosh in front of Chanji, Nilu and Vishnu:
This is the last journey of the Blue Bus. You are very lucky to drive myself and the mandali in this bus on its last trip. You were the one who had it built and now it is you who are taking it on its final journey.

This Blue Bus is like the chariot of Krishna, and after my manifestation, people will worship it! This bus should be sold in a lottery among our close ones and the winner should keep it on condition that he does not derive any commercial benefit from it, either by plying it on hire or by selling it.

This bus has great importance, and to keep it is essential. I have done much work through it, and it is Sarosh's great good fortune to be driving God in person on its final run!
-www.lordmeher.org, p2242
Nov, 1941; Dharwar
Photo courtesy: www.ambppct.org