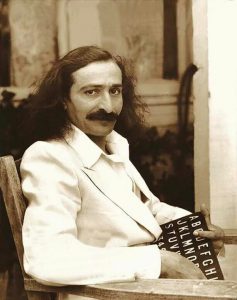 After a few minutes, his roving glance fell on a young lady standing isolated at the far end of the room with her back to him. Baba beckoned for her and when his summons was relayed, she turned her face toward him but remained where she was. She was called again. Slowly coming forward, she stopped at a distance.
Norina told her, "Come and shake hands with Baba, child." The young lady remained reserved, and Elizabeth said to her, "Why are you afraid, dear? Come nearer and meet Baba."
She asked, "How can I touch him?"
"Why not?" Norina said. "All can meet Baba!"
This brought tears to her eyes, and she asked pitiably, "But I am a sinner! How can I touch a holy being like him?"
Baba then went to her, and passed his hand over her head and shoulders. She started weeping, and Baba gestured to her:
"I am the purest of the pure. I can purify the worst sinner. You have understood your mistakes and acknowledged them faithfully in the presence of others, and so you are forgiven. This penance from the depths of your heart is adequate, and you are now cleansed. Now, don't fear in the least and don't repeat your past mistakes. I give you my blessings!"
The girl continued to sob, and Baba lovingly embraced her. The tears which Baba's love had drawn from her heart wiped out all her sins.
Those who witnessed this were deeply moved; their hearts overflowed and their eyes also teared.
Before departing, Baba again embraced all the guests and putting his hand on the girl's head, consoled her, "You have received forgiveness for everything! Forget the past and don't worry at all." The girl pressed her eyes to Baba's hand and kissed it.
-www.lordmeher.org, p1437
Feb, 1932; Beverly Hills