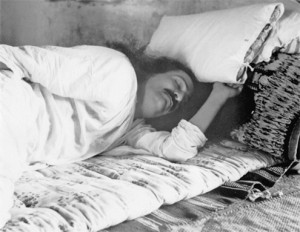 After the laughter that followed, Baba himself narrated:
Baba told Ella that all this is nothing but a dream. Only God is real. And God is in everything, in you and in me. When Ella goes to sleep and sees the dream in her sleep, her body is on the bed. Yet she goes about, engrossed in the body; she enjoys a good dinner, eats well, feels happy. Then, sometimes she feels very sad, she suffers. Both pleasure and pain are there in the dream, yet the body is there on the bed. It does not go anywhere; it does not do anything; yet it enjoys.

Baba comes there in the dream while she is enjoying or while she is suffering an illusion, and Baba tells her, "Ella, don't worry; this will all disappear. It is nothing but a dream."

But she answers, "Baba, how is that? I suffer. How can I help it, Baba? I see you, I see others. Some are troubling me. Some are giving me pleasure. How can I believe it is nothing but a dream? How can it be so real?"

But as soon as she wakes up in the morning, she realizes that she saw only a dream, that Baba had come in her dream and explained that it was nothing but a dream, that she should not suffer, she should not weep. But she did not listen to Baba, so she starts weeping as she works, remembering the dream at night.
-www.lordmeher.org, p3994
Jul, 1956;  New York