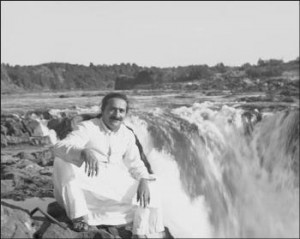 Baba repeated a verse from Hafiz about giving up life for the sake of the Beloved, explaining:
By saying so, Hafiz never meant giving up life itself, for instance, by cutting one's throat. He was referring to giving up one's will, which is one hundred percent impossible. He who gives it up realizes – becomes one with – the Master, the Beloved. Another couplet of Hafiz asks:
"Why are you after union, love and spiritual progress?
Leave all these to the will of your Beloved!
Therein you will find everything!"
To achieve the will of the Beloved, do not argue. No why and wherefore here because the chosen ones accept from the bottom of their hearts what the Master says. If I tell Nilu, "Tomorrow I will make you the King of Persia," don't doubt it. Accept it. If the next day I tell him, "Nilu, I will make you a sweeper in Africa," accept that too, willingly. The third day I may order him, "Nilu, leave everything and go out begging." Accept this too, with full devotion. Then Nilu will become Nilkanth.
–Lord Meher (First Ed), p4141