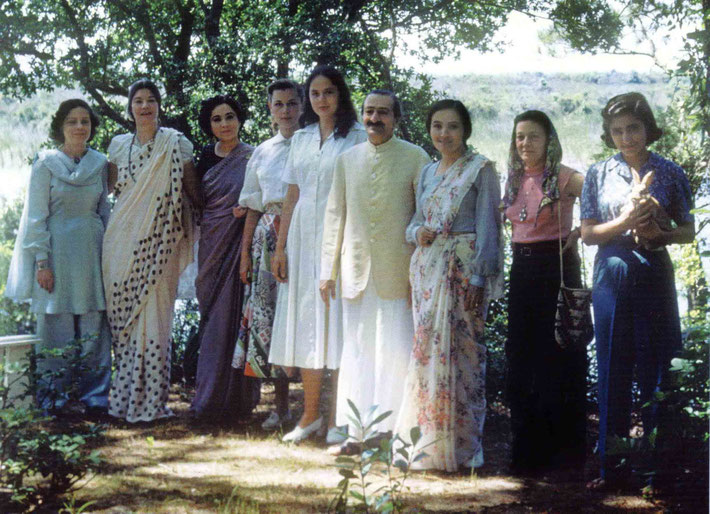 [Filis and Adele's interview with Baba]
After fifteen minutes, Baba called in Filis' "twin," Adele Wolkin, age thirty-four. "She has eyes like Babajan," he remarked, "very large, grey-blue."
He spelled out to them both: "I heard so much about you both that I feel so happy that at last I have seen you. Are you not nervous?
"No," they said.
"I am overjoyed. Are you happy?"
"Very happy."
"No more happy than I am in seeing you. When you know me, you will love me like a little child. I am a child – grown up. I love humor, I love to tease and work hard here, and at various places, while talking to you now. And when you love me with pure, simple love, there should be no barrier. Love, pure and simple, then all doubts will vanish until the mind gets tempted to doubt. Even if love is there, the mind goes on working. But love does not bother; it loses its all in the Beloved. Do you love Baba honestly?"
"Yes, Baba!" they replied.
"What can I do for you?" asked Adele.
"What more can you do for the Beloved? I want love, nothing else. Love me, and let God love us. That is what I want. When you love Baba, God will love you, and God's loving means everything. So, Baba is very happy. One who really is the humblest of the humble is the greatest of the great. But it has to be in all honesty, in all truth. So, let us love, love, love; all else is illusion. So, Adele and Filis, what more can you do if you really love me? Do you love me?"
"Yes."
"Do you know where that love is coming from? When you love Baba, God's love means everything."
Filis later recollected: "At that moment, I felt the circulation of love from his heart to our hearts, back to his, so strongly, never again could I say, 'I love God.' That love is his gift. To say it is mine would be like a drop of dew saying, 'I am the sun,' when it sparkles."
–www.lordmeher.org,p3796
Photo courtesy: http://www.meherbabatravels.com/his-close-ones/women/adele-wolkin/