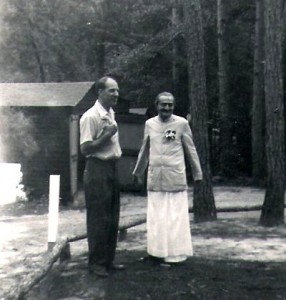 Darwin Shaw with Baba*
Darwin and Jeanne Shaw had met Baba in 1934 in New York, but this was the first meeting for their two teenage daughters, Renae and Leatrice. The entire family drove south to Myrtle Beach, where they met Baba at 10 A.M. on May 10th in the Lagoon Cabin. Baba was wearing white pajama pants and a maroon silk robe. He embraced each member of the family. The girls were weeping.
Baba stated to the family: "God in heaven is happy you are here. Do you have any idea how happy I feel to see you? I underwent many hardships during the last two years doing mast and poor work, sitting in seclusion, but today I feel so happy to see you dear ones, you who have worked so hard for the Center. Every inch of this place has Norina, Elizabeth and the Shaws' love in it. I saw your [Darwin's] mother and father on the 6th.
"I have had no sleep for the last seven nights, yet I feel fresh because of the love of my dear ones, which makes me strong. God wants love – honest, pure love. So love is all that matters."
"We hope to serve you," said Darwin.
"I know, and you really do love. The children also love me, because Baba loves you all. It is my love that makes you love me."
At one point Baba asked the girls, "Would you do anything I asked?" Both nodded Yes.
"Yes, or just yes?" Baba asked.
Renae thought: "I am feeling so much love in my heart, I do not quite understand what Baba is saying!"
Leatrice decided: "I'll say yes no matter what and think about it later."
Both firmly responded, "Yes!"
"I'm glad you both will obey me without hesitation," Baba stated, and to their father added, "Isn't that right, Darwin? They'll do what I ask without hesitation."
Baba continued: "Would you jump in the lake?"
They said they would.
"With all the alligators?"
"Yes."
"Good. I am in all – snakes, deer – in everything."
Baba again embraced each one, and held Leatrice so she could gaze deep into his eyes.
–Lord Meher (First Ed), p3798
Photo source: http://ih.constantcontact.com/fs032/1102463375060/img/555.jpg