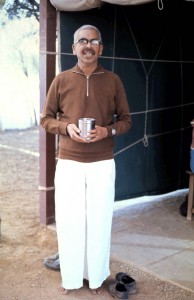 Nana Kher, 28, of Nagpur was a friend of Eruch's. He had been interested in spirituality from childhood, particularly the stories of Ram and Krishna. He heard of Baba in 1941 from Deshmukh (then his professor of philosophy) and from that time on had been yearning for darshan. But when Baba's darshan program was held in Nagpur in 1944, Nana was working in Poona and had no knowledge of it.
In Poona, Eruch told him of his forthcoming marriage and added, "If you attend it, you will have Meher Baba's darshan." So Nana came to Ahmednagar to attend the function. The first time he met Baba was on 27 May, the evening before the wedding, when Baba paid a visit to Akbar Press.
Baba called Nana into his room. Eruch, Jal Kerawalla and Jalbhai were present. Baba asked him, "What do you want?"
"Spiritual freedom," Nana replied.
Baba looked highly pleased and asked, "Would you follow my orders?"
"I am fully prepared to do as you say."
Baba instructed, "Fast every Sunday during the day, and at 7:00 P.M. have a full meal after feeding a beggar with your own hands. Repeat my name for fifteen minutes daily in a closed room, and lead a simple, pure life." Nana was grateful for Baba's orders and Baba asked him, "Is there anything else you want to ask?"
Nana reluctantly said, "My parents want me to marry. Should I?"
"What is the hurry?" Baba asked. "Wait for two years and then I will tell you what to do."
-www.lordmeher.org, p2484
May, 1945; Ahmednagar
—
Nana Kher's mother, Godubai, had come from Nagpur, and Baba asked her what she wished for. "Nothing except your love!" she said. In fact, she had come again with the firm resolve to ask Baba about Nana's marriage. She had been thinking about this the whole time while coming on the train, and again in the pandal as Baba was giving darshan. But when she stood in front of Baba, she forgot all about it – and only remembered on the train while returning. She now accepted that it was not Baba's wish that her son marry. This was true, and so Godubai would continually forget to bring up the subject with Baba. Thereafter, she never mentioned it to him – nor did Nana ever marry.
-www.lordmeher.org, p3558
Sep, 1954; Meherabad (The Three Incredible weeks)
Photo courtesy: http://www.meherbabatravels.com/his-close-ones/men-1/nana-kher/