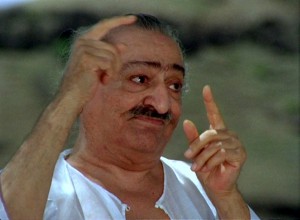 Baba ate very little during those final days in 1969. Goher guided Naja as to what to prepare and urged Baba, "Take this, Baba, you will like it, and it will give you some nourishment." But he would never want it.
During the last few days, he had some pieces of soft papaya and a little apple juice. For a few nights, he asked for coconut water. Goher told Naja to inform Meheru. Naja came rushing out ofBaba's bedroom calling, "Meheru, Baba wants narial pani." Meheru broke a fresh coconut and extracted the water, and Mehera gave it to Baba. On the 31st also, Naja cooked Baba's usual food, but he did not eat it.
Eruch gave Baba a sponge bath on the 30th, and Padri arrived that evening. There were no telephones at Meherazad or Meherabad, so Adi Sr. had telephoned Padri the day before [via the TB sanitarium at Arangaon) and told him that Baba wanted him to come to Meherazad for a week, to help with the ni.ghtwatch. Padri asked Adi to send his car for his things; he would ride his motorcycle, so that the motorcycle would be at Meherazad, in case he had to run any errands in Ahmednagar.
Another of the old mandali, Chhagan Master, was to go to Meherazad also, but he did not arrive until the morning of the 3 1st. ]ust as Padri reached the Meherazad road on the 30th, his motorcycle starred giving trouble, but he made it. Before leaving Meherabad, he had informed Sidhu, "I'll be gone for a week," and added, "The pulse of Meherabad is in God's hands."
After Padri left, Mohammed Mast remarked, "He'll be back tomorrow."
"No," Sidhu explained to the mast, "Dada [Baba] has called him for eight days."
Nevertheless, Mohammed insisted that Padri would be back the following day. "Dada will be coming with him in a box," Mohammed stated. "Dada will be like Gustadj i," who had passed away.
Bhau was on watch near Baba, when they heard Padri's motorcycle. He was sent to bring him. Baba told Padri, "Go and have dinner. I'll call you later." Padri ate very little, maybe a chapati and some vegetable, so he would not feel sleepy during his hours of nightwatch. Again, Baba called him and told him to sleep.
Bhau too was told to sleep at 1o P.M., and Aloba began doing nightwatch. Bhau likewise was called again half an hour later, and again at 12.30 A.M. Around 11 P.M. something extraordinary happened. After keeping silence for more than 40 years, Baba actually spoke. He said two Hindi words to Bhau, out loud: "Yad Rakh! [Remember this!]"* and then gestured [in English], "I am not this body!" Bhau was stunned, but more by the implications of Baba is pronouncement rather than by the fact that Baba had uttered two words.
"When Baba said Yad Rakh!," Bhau related, "though his voice was feeble, the sound was very clear, and its intensity and impact very, very forceful. It conveyed so great an impression, that my mind itself neither registered not questioned the fact that Baba was speaking." Baba did not speak again, but he gestured the same declaration several times.
*[Footnote: Bhau never told anyone about this, until June 2001, when he saw a vision of Baba when Baba indicated that Bhau should reveal it]
–"Mehera Meher", p483