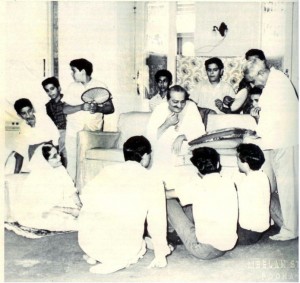 [Someone interrupted Baba with a question.] When you are in my company, be fully attentive and receptive to what I dictate without questioning. Love me and be silent. Pampering of the intellect brings forth innumerable questions. All these questions of the mind can be answered, but that is hardly spiritually indispensable. Mere intellectual explanations will not take you out of the internal muddle, but will puzzle you all the more. Very rare persons have the necessary acumen.
Try to grasp what I have already said. The more you love me, the less you question. Love answers all questions, for it ignores questioning itself.
Hold on to my daaman, even if it amounts to hell and heaven becoming one! Worry not about the conflicting thoughts, but be aware that your grip has firmly clasped my daaman. Let not the grip be loosened in any event.
To demand anything from the Beloved is an insult to love. Love only gives and goes on giving until the Will of the Beloved alone manifests through the lover.
Beauty and love are linked. There is always a sweet tussle in the heart of a lover between God's beauty and love. God's beauty and love demand sacrifice and total surrender. The lover of God has to do whatever the Beloved wants.
-www.lordmeher.org, p4669
Apr, 1960; Guruprasad