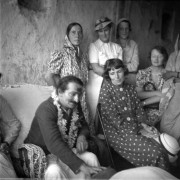 After their return from the river, Baba said, "While we were on the boat I remembered a story about a Perfect Master." All the women eagerly requested him to tell it and so he began to spell out the tale:
There was once a Sadguru staying in a certain place with a few of his disciples. One night his mandali were conversing among themselves, saying that though they had stayed with the Master for the past so many years, still they had gained nothing. A Sadguru is all-knowing, and he of course knew what his disciples were talking about. But he did not say anything and appeared innocently unmindful of them.
The next day, all took their seats before the Master. He noticed they seemed to be in a sad mood. The Master inquired the reason, and they told him what was on their minds. He laughingly told them to be patient and, in a short time, had completely changed their remorseful mood into one of gaiety. All forgot their dejection.
Some days later the Sadguru told his disciples, "Don't do any work today and enjoy yourselves for a change. You have the whole day to yourselves, so eat, drink and be merry." This made them jubilant, and they spent the day happily playing cards, listening to music, reminiscing and joking with one another.
In the evening the Sadguru said, "We will go out in the boat tonight." This made his disciples even more happy and they said, "Master, it would be grand if you allowed us to take a little wine this evening." The Master readily agreed, and all drank and ate to their heart's content. They took their seats in the boat and continued playing cards, listening to music and enjoying themselves thoroughly. The Master told them to take turns rowing the boat by twos. And so it went.
They were overjoyed to be allowed so much freedom, and after a few hours the Sadguru observed, "We have come a long distance and we won't be able to return before dawn."
The disciples said with bravado, as they were slightly tipsy by now, "However far we have proceeded, we will surely return home by morning; we will row even harder!" The Master did not say a word.
[To be continued]
–www.lordmeher.org, p2350