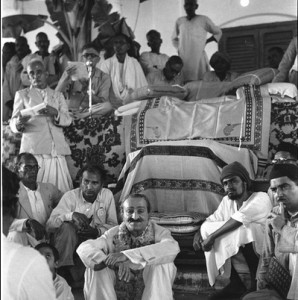 How can one explain love? There are as many ways of explaining love and obedience as there are men. There can thus be no end to the understanding of them except through obedience based on love, and through love itself. All great saints, teachers and Masters say the same thing in one way or another when the emphasis is laid on love for the sake of love, or failing that, on obedience in the cause of love.
For spontaneous surrender, the heart must, so to speak, be worn on one's sleeve. One must be ever ready to place one's neck under the ever-sharp knife of command of the Beloved, and the head should figuratively be detached in order that it might be completely surrendered at the Master's feet.
Obedience should be so complete that one's concern with it makes one as much awake to possibilities as it makes one deaf to impossibilities — as envisaged by the poet [Hafiz]:
I was tied to a raft and thrown into the ocean;
Then I was warned to be careful not to let my robe get wet.
Yet, all this does not and cannot explain the required degree of continued readiness for love and obedience to love. In fact, one of the three reasons for this sahavas is to help you grasp what love and obedience really mean.
You must have such a clear picture in your minds of this sahavas as to forget completely such things as declarations, messages and discourses by me. This is not an occasion for the fulfillment or the making and breaking of past and future promises. You have got to remove from your minds any picture of me upon a dais and you sitting before me — as has been the experience of most of you present here.
-www.lordmeher.org, p3727
May 1955; Meherabad