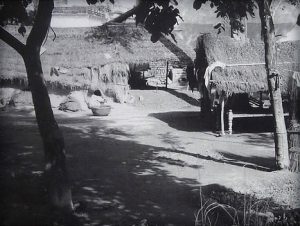 Meher Baba had spent twelve days in Sarnath. At seven o'clock on Monday morning 12 December 1949, Baba, leading the way, left Sarnath on foot with the four women and Eruch nearby. The whole caravan followed two hours later. The white horse — symbolizing purity and the sanctity of the Avatar's advent — was in Don's charge. Behind it, Pendu drove the caravan, pulled by the black English bull, Rajah, followed by the camel cart driven by Baidul.  In the rear came Sadashiv, driving the bullock cart, and behind it, the two cows, the calf and the two donkeys.
The gypsy life had begun. "As if to subdue lust, greed and anger," Age declared, "the caravan of men, women and animals marched on. Hearing the tinkle of the camel's bell, these deep-rooted weaknesses in Man began to tremble." (LM, p2844-45)
The first day, they halted in the compound of a school at a place called Shivapur. Here Baba sent Babadas and Eruch out begging for their breakfast. The first hut Eruch went to was the home of an old woman.  Eruch called out to the old woman 'Maa premsay bhiksha dijye' (Mother, please give us food with love).
[In Eruch's own words:] "The old woman said 'Wait, wait my son, wait, I will give you something,' and she started opening some boxes inside her hut. Not a single box had anything in it . She told me to wait at her hut and went out to beg for my sake! As she made the rounds of the homes in her street they gave her a good quantity of food, and then she brought it to me…She brought back freshly cooked bhakhri (the bread that farmers eat) and vegetables and some chutney, gave it to me and sent me on. She wouldn't permit me to leave empty handed, you see. I still remember that old lady who went out to beg for the sake of the God-Man–who had sent me to beg for him." ("Tales from New Life", p31-32)
How fortunate was this poor woman! The God-Man had sent his companions to beg at her door, and she did not fail to give him something, even if she had nothing herself. (LM, 2845)
Photo courtesy: "Meher Baba's New Life", Bhau Kalchuri