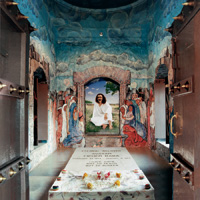 When bowing down at the tomb, I want you all to remember two things:
– to love Me wholeheartedly. Love does not mean the outward expression. You should love in such a way that you forget yourself in Me, the Beloved. If you cannot love Me, I will love you 260 and you will be My beloved.
– to give happiness to others at the cost of your happiness or comfort.
– Awakener, Vol 7, No. 3, P31