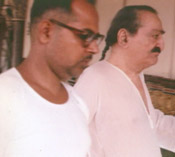 DURING BHAU'S WATCH on the night of the 24th, Baba gestured to him, "Listen carefully to what I say. I am giving you very important work. I want you to write my biography in verse." As he was gesturing, Baba would get frequent sharp jolts, and one's heart broke at seeing his suffering while he was straining to communicate.
Bhau pleaded, "Baba, don't say anything now. You are in terrible pain. Wait and tell me when you are better."
But Baba went on giving him instructions. When he got the jolts, he would stop and lie quiet for a few moments; then he began again. Watching Baba was the most painful sight of Bhau's life; his body and heart crumbled to see the Beloved suffering so.
Baba instructed: "Write eight hundred pages. Write in a simple and engaging way. Make it interesting. Make it instructive. Use four types of meters. Include the lives of the five Perfect Masters at the beginning, and also my father's life.
"Save one hundred pages for my manifestation. I will give you the meters and also tell you about my manifestation later. Don't worry. I will explain everything to you."
Bhau listened and did not interrupt. To ask Baba anything at such a crucial moment would only have added to his suffering. It took nearly one hour for Baba to convey what he wished Bhau to write, and in the end he added, referring to Bhau's writing in Hindi, "Always remember that I like your writing very much. Even if the world finds fault with it, you should not mind. I tell you honestly, remember it, I like your writing very much. And when I like it, what more do you want?"
This scene in Baba's room on the night of January 24th, 1969, will always be before Bhau's eyes; he alone knows this story of tears. Meher Darshan (the biography in Hindi verse) and Meher Prabhu* (the biography in Hindi prose) are the results of Baba's final instructions given then. As Bhau later recollected: "It was his wish that I write it, and by doing so, I have fulfilled his last orders to me."
–www.lordmeher.org, p6704
* "Meher Prabhu" is the original Hindi version of today's "Lord Meher", the comprehensive biography of Beloved Meher Baba.