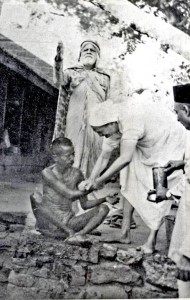 Baba bathing leper at Pandharpur, 7 Nov 1954
After the meals, Sastri informed Baba that were it not for the help rendered by Venkata Rao to those who had suffered in the recent floods, many families would have been left destitute and starving.
Hearing this, Baba observed:
Love for God can be expressed in so many ways because He has infinite aspects. The three aspects of power, knowledge and bliss are well known, but infinite honesty and infinite goodness are also main aspects – and goodness means where there is no thought of self.
When you serve your fellow beings with selflessness, you serve God; but this term "selflessness" is so very loosely used that in its very use its purpose is lost. Selfless service means that it has to be so very natural that even the thought that you have served should be absent.
What God's aspect of honesty means is that you serve others in order to make them happy at the cost of your own happiness. Honesty demands that no show and no fuss is made of your service and you treat others as you treat your own dear ones.
www.lordmeher.org, 4340