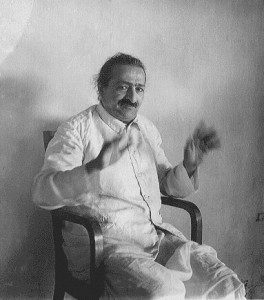 [Baba and the companions reached Benares on 15th November 1949 from Belgaum. Dr Khare and Dr Nath have arranged accommodation at a bungalow called Nati Imli and daily food was supplied to the group agreeing to all Baba's conditions.]
Gaya Prasad  [father of Dr Khare] had begun to supervise the preparation of food at Nati Imli. Baba sent Vishnu to him several times, with instructions to upbraid him in this way: "Are you cooking or spreading smoke here? Do you have any sense?"
Gaya Prasad humbly replied, "Pardon me, Masterji; there will be no more smoke."
Vishnu thought Gaya Prasad was a cook, but he was in fact the wealthy owner of a transport company, and was supervising a hired cook in order to serve Baba. That evening, when Gaya returned to his son's house, his daughter-in-law remarked, "How nice it would have been if Baba had permitted us to cook here. We, too, could have contributed in serving him." Dr. Nath's wife was of the same opinion, but on account of the restrictions, they could not mention their desire.
The next day, when Gaya went to Nati Imli to cook, Vishnu, as instructed by Baba, criticized him, "Hey, Cook, yesterday's food was terrible! Do you or don't you know how to cook?"
Gaya humbly replied, "Masterji, I will cook better today, I promise. Forgive me for yesterday's fault. It was the first day."
In the evening Baba sent word to Gaya Prasad through Vishnu that from the following day food should be cooked and sent from Dr. Nath's home. Gaya was quite pleased, as both the doctors' wives were hoping for this opportunity.
Gaya Prasad's service was genuine. Despite rebukes and taunts, Gaya served Meher Baba with complete humility and love. Baba was not giving him darshan — not allowing him to sit with the companions — and, in addition, Gaya was being castigated without reason or fault on his part! The doctors and their families could not even step near the bungalow's vicinity. But Baba's behavior was purely out of love for both families. He was showering his love on them by his strict attitude, and they were fortunate to have had such an experience.
-www.lordmeher.org,  p2829
November, 1949; Benares